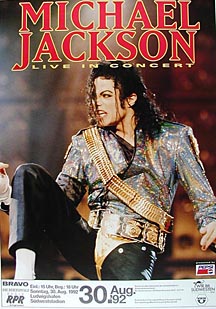 Despite Michael Jackson is probably the most complete and successful artist of all time, proving his skills as a singer, actor, dancer, producer, composer... it is strange the fact that none of his live shows has ever been published commercially.
No doubt about it, one of the most valuable elements in Michael Jackson's career is the greatness of his live performances, his attendance records, selling dozens of hundreds of tickets out in minutes for every seat in the world's most prestigious venues night after night, year after year, decade after decade... Despite the criticism and roumors spread by the media along all these time, and beside your personal opinion about his persona, nobody can say that Michael Jackson hasn't got an amazing talent; a talent that is meant to be proved onstage. His musical short films are understood as master pieces, but they are masterpieces well known around the world already. On the other hand, there are so many fans and public in general that have never seen one of those concerts and have to consider themselves fortunate when watching brief performances at some award ceremony.
With this petition, MJJ Euroland and the undersigners are asking and encouraging the artist himself and his staff to consider the commercial release of some of his concerts. Almost every single concert have been filmed on high quality video formats, and very few countries have ever aired some of these shows.
If one or serveral Michael Jackson projects were available featuring footage of his performing, backstage documentaries, never before seen video of his trips around the world, his magic, friendly relationship with the fans, etc, we are sure Michael Jackson would again beat records as he already did with the sales of The Making Of Thriller, the never-ending exhibition of Captain Eo at Disney parks, or the CBS audience ratings of the 30th Anniversary concerts held in New York City in September 2001, among other achievements.
Of all the concerts celebrated by the Jackson Five and later on The Jacksons for fifteen years, just some minutes have ever being published. And a bunch of pictures is all that many fans have ever seen of the Bad, Dangerous and HIStory tours.
Why there are no Michael Jackson solo live albums released? Why the DVD revolution hasn't been taken as a perfect moment for the release of any of his concerts, out of the hundreds of gigs filmed for over thirty years? With this petition MJJ Euroland hopes to show Michael Jackson and his staff at MJJ Productions the great expectation there is towards the eventual commercial release of these great, historic shows.
Vote HERE:
http://www.petitionpetition.com/cgi/...ction=signForm